Get your hands on the January box!
Register your child before the deadline
OR WHILE SUPPLIES LAST
Enroll my Child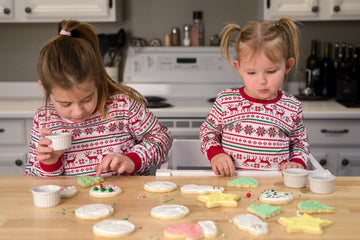 Free shipping coast to coast
Mini Chef boxes are shipped free of charge everywhere in Canada
Playful
Allows learning while having fun, making children proud of their accomplishments through concrete achievements
Educative
Develops curiosity and interest in various subjects, in addition to developing cognitive abilities
Simple
Allows children to be semi-autonomous and proud to make their own desserts
RECIPES OF THE MONTH
Fortune Cookies
In January, the New Year is featured in our Mini Chef box. We celebrate the new year here, but also the Lunar New Year (also called Chinese New Year)!
In 2023, the Lunar New Year is officially on January 22. And to celebrate this great global holiday, we have prepared a recipe for festive fortune cookies.
Children will be able to write their own positive messages, learn to bake fortune cookies and insert their words into them to share with the people they love.
RECIPES OF THE MONTH
Cosmic Brownies
It's hard to imagine New Year celebrations without fireworks and confetti. The children will therefore prepare delicious homemade cosmic brownies, in flamboyant colours!
DISCOVERY ACTIVITY
Making Fragrant Soaps
We're getting all the senses to work this month with a food-scented soap-making workshop that will turn into a "Guess what it smells" game!
And to be consistent with the theme, the soaps are shaped like the signs of the Chinese zodiac, each representing a lunar year.
Everything is included to make this activity a success: silicone moulds, soap base, fragrances and coloured powder, scratch card to discover smells, etc.
Always Included Each Month
Necessary non-perishable ingredients
Accessories needed for each activity
Biscuit to paint with edible ink for each child
Easy-to-follow recipe and activity sheets
Wonderbake apron for every child in the first box
Enroll Your Child Now 🧑‍🍳
By enrolling your child in our Mini Chef program (4–8 years old)
Each month, they will receive a thematic box of ready-to-cook desserts, accompanied by educational activities also related to the theme!
Enroll my Child